Are you the average woman?
I mean, are you short to medium in height, and weigh approx. 140 lbs. (give or take a few pounds)?
If so, you may be facing the delimma of what type of gown to wear to your wedding or to a friend's wedding that will be flattering to your figure.
Well, the
Empire Waisted Gown
, or dress is nothing new, and appears to be experiencing a come-back in wedding style trends.
What makes the empire waisted gown so flattering?
1.
Since the waist falls just below the breasts, the natural waist is not a focal point, and therefore unwanted bumps and lumps are smoothed out in appearance.
2.
The empire waistline creates the appearance of a longer torso, and this is also slimming to the figure.
Other features of a dress to consider that are flattering to a fuller-figure:1.
Rather than choosing a sleevless wedding dress
which can accentuate flabby arms, or arms that are a little more plump than desired - consider a dress that has
sexy off the shoulder sleeves
. This gives you the feel of sleevless, but with a the added covering of either short or long sleeves to hide part of the arms.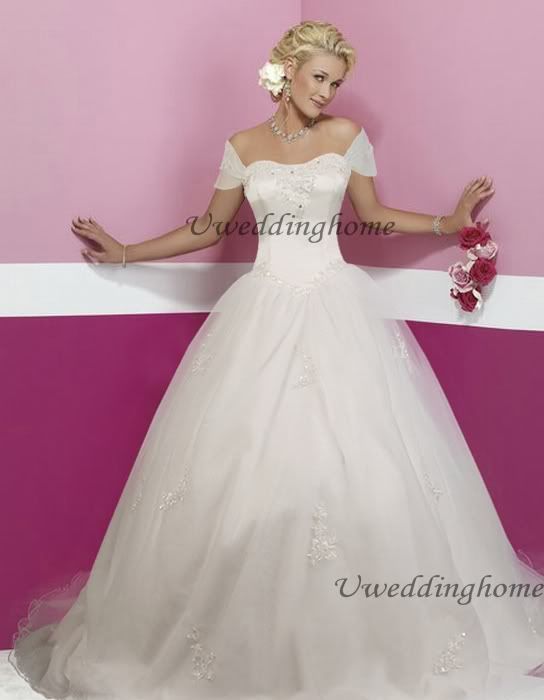 2.
Choosing long, sleek lines rather than a big poofy bottom
to your wedding gown can also make a slimming difference. I'm still referring to an empire waisted gown of course (not the image above). Combining an empire waist with a long, floor-length sleek bottom to the gown can also be very flattering, however if you are very full in the hips and thighs you may want to go with a slightly higher poof - perhaps with some added layers.
It's always important to try on several gowns before making your final choice. Remember your loved ones will not always be honest with you in regard to how you look in a gown (so as to not hurt your feelings), that is why it is so important to do your style research.