There are many couples who choose to have a
winter wedding
. There are also some very good reasons to plan a wedding in the winter. The number one reason being - "
It's often cheaper!"
When I think of a winter wedding
, I think cool colors like blues, silvers and whites. Of course a winter wedding can be any theme or colors you wish. I'm just a dreamer and love a real-life fairy tale every now and then. Notice the photo above for example: Gorgeous! The golden light and tones creates a sense of comfort and warmth. Just imagine your guests sitting in a room decorated like that. They'll talk about your wedding reception for the rest of the year! Wouldn't that be great? Notice that each guest table has a
golden tree
decorated with
hanging crystals
, and
hanging votive candles
. Takes your breath away doesn't it?
If you have a cool fairy tale winter wedding in mind - I thought I'd share some possible ideas.
1. Think lots of lights (white lights), and blue lights - EVERYWHERE!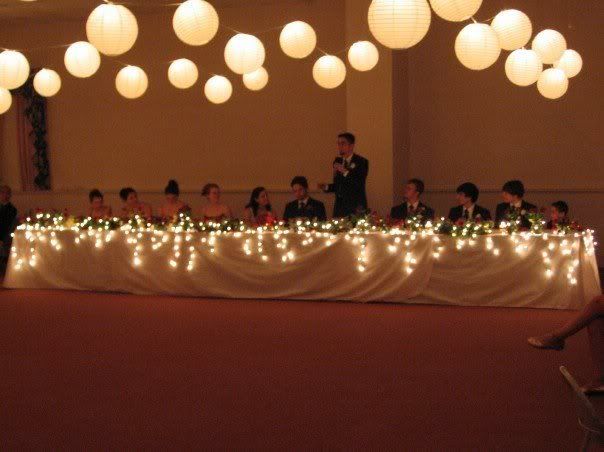 The photo above is not even a good enough example (
it's a bit too simple
), but I do like the usage of the
Japanese Paper Lanterns
in the ceiling. Granted this would be a lot of hanging work, but worth the time.
All I can say about the photo above with the usage of blue or violet lighting is that it screams "
winter wonderland
" - Wow! I think that however your budget (if not large) might be better off with the golden tree idea (
as seen in the very first photo above
). Flowers are much more expensive than golden painted trees, and candles.
2. Don't forget about the power of candle light.

Candles always create a relaxing, warm mood for the atmosphere. I imagine white candles of all heights and widths centered in various locations and tables (not necessarily as the centerpieces), but an accent to the overall decor. You can have floating candles placed in water with blue food coloring in it. The blue water will cast wonderful blue beams of enchanting light.
3. The wedding cake should be a center of attention!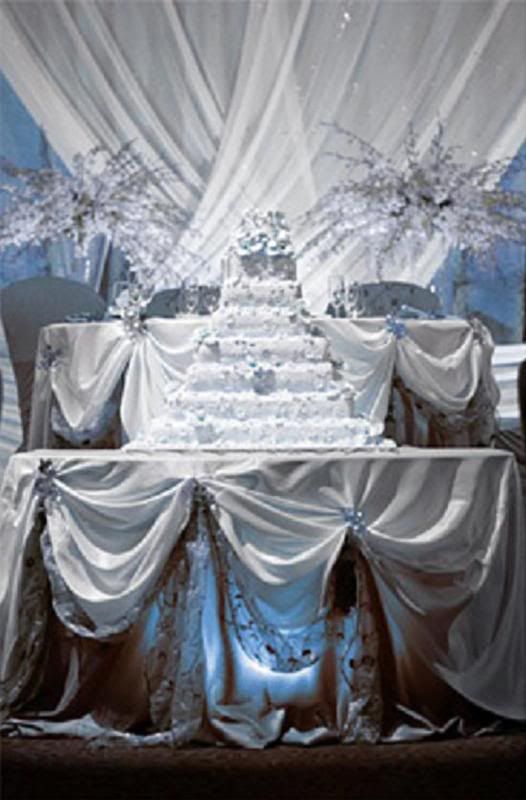 4. What is a winter wedding - without a winter wedding dress?




5. The Wedding Flowers.
A popular flower to go with during the winter seems to be white cala lilies, however it would be nice to accent them with another complimentary color from your wedding color theme. You can do this easily with some colored ribbon, or bouquet jewels from your local florist shop.