Current Wedding Trends

By: Charish
http://www.FresnoWeddings.Net/
http://www.VisaliaWeddingsGuide.com/
http://www.WeddingLocationCalifornia.com/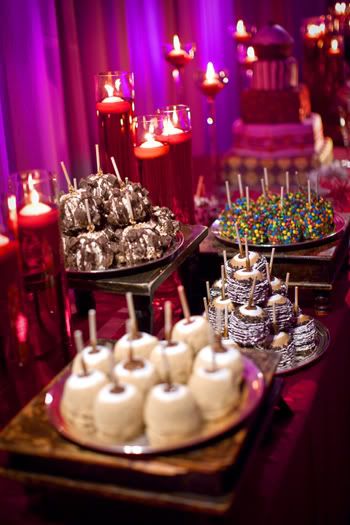 In spite of our current economy situation
, I have found that engaged couples are finding great ways to be able to still have the wedding of their dreams, without sacrificing quality.
In fact, I find that many couples are planning a more platinum wedding, and simply cutting down the size of their guest list to save on their overall costs.
Here are some trends I've observed this year so far:
1. many couples are opting for a wedding venue that accommodates both the wedding ceremony, and the reception.
This is considered a "
green
" trend choice as it cuts down on the overall transportation needs for the couple and their guests. This option is also most likely a money saver on overall wedding costs, not to mention a huge timesaving convenience for all.
2. I am seeing a common trend in the guest counts for couples.
75 - 100
guests is quite common right now, which can save the couple a lot of money.
I find it refreshing that couples are beginning to realize, that their wedding does not have to come with an open invitation to everyone that the couple has ever known.
Keeping the guest list strict, and limiting it to only very close friends, and close relatives is perfectly acceptable.
3. Wedding cakes topped with Jewelry Cake Toppers
(aka
monogram cake toppers
). While this is not necessarily a new trend, it appears to be more common this year than
in previous years. One reason may be that couples are choosing cakes with less floral décor, and going with more smooth fondant hand-painted designs topped with bling, as apposed to the
previously more common butter cream frosted cakes that previous generations favored.
4. Wedding Photography
– Today's couples want a wedding photographer that can and will capture the fun aspects and emotions of their wedding day. Few couples
desire a more traditional wedding photography approach that requires their undivided attention and time to be devoted to looking at the photographer's lens. While there are still
many couples that want a few traditional family poses for their album, the trend is leaning evermore toward a more carefree, photojournalistic approach.
5. Event Designers
– There are more couples leaning toward hiring an "
event designer
" now than ever. Event designers are not to be confused with
wedding consultants
however,
and I find that this is often the case. Both are two very different, but important professional services. A true event designer, should offer the majority of his/her products, and services "
in house
", which means, little to no outsourcing for things such as
party rentals
,
floral design
, lighting,
linens
,
decorating
, etc. By hiring a true event designer, couples can save money on their overall costs.
6. Wedding Dresses
– Yes, I said wedding dresses. More of today's brides are choosing a more formal and
designer wedding dress
for their ceremony, and then changing into a less formal, and more flirtatious wedding dress for the reception and festivities. As for
Bridesmaid dresses
– more brides are considering dresses that their maids can re-wear to other special functions; therefore simplicity is the current trend.
7. Wedding Videography
– The old fashioned
wedding video
that brides a few years ago were satisfied with, simply won't do for today's bride and groom. Couples of today are
looking for talented
video cinematographers
. Products from these masters of emotion, should have a movie-like feel and sound to them, that will make the couple re-live, and re-feel
their day as if it was happening all over again, , , ,and without feeling the need to push the "
skip
" button to get to the good parts.
8. Style
– From over the top bling, bling, or as rustic as you can get, are hot trends right now. Many brides and grooms are choosing extreme themes, styles, and or colors for their
special day's look.
The goal appears to be
, to wow the guests, and show them the best time of their lives. More emphasis is being placed on the personalization of the couple's wedding day.
For example:
One groom who was a Dentist, decided that the party favors should be tooth brushes, with a small candy filled sash tied to each one. This was not only a personalized memento from the groom and his bride, but an expression that a Dentist can have a sense of humor too.
HOT COLORS:
I expect to see chocolate brown as a base color as in the past combined with bright colors. We will see a lot of silver, and royal purple. Also gray (charcoal gray) as a base color is expected to be hot this year, but combined with more lively colors to kick it up a notch.
Candles, candles, and more candles!
Expect to see a lot of candles at the reception. Couples are shooting for a romantic feel, and nothing says romantic better than a lot of candle light. Choose
bee wax candles
for a more "green", earth friendly choice!
Happy Wedding Planning!