Bridal Shoes, How Today, ANYTHING Goes!!!
You will likely invest a lot of time, and money in choosing your perfect wedding dress, your bridal veil, your bridal hairstyle, and wedding makeup look.
Why skimp on your bridal shoes?
The bride's shoes play an even more important role in the overall bride's look, fashion sense, and sexiness today more than ever.
ANYTHING goes for today's bride when it comes to her choice of bridal shoes! I said ANYTHING!
Below are some examples of shoe styles that are common for today's trendy, sexy, and bold bride.
Enjoy!
Give Tradition "The Boot" With Some Bold, Sexy Bridal Boots!
Boots are a perfect pair with an informal, knee high, or tee length wedding dress! Rule? the higher the boot, the shorter the dress ;)

Alexander McQueen - Faithful Boot (Magnolia/Old White/Electrum) - Footwear
Consider pairing the shorter boots above with a dress like the following example:

Empire Strapless Court Train Satin Chiffon Tiered Wedding Dress (WSW0164)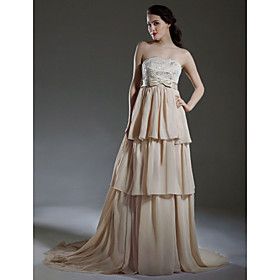 COLOR IS "IN" For Today's Bride As Well. Under every great wedding dress, could be a colorful surprise!

Promiscuous - Josie (Rose Pink) - Footwear
Consider Pairing The Above Shoes With The Following Vintage Style Necklace.

Betsey Johnson - Vintage Betsey Pink Flower Beads 3 Row Necklace (Pink) - Jewelry
Or For A Little More "Flashy" Pink:

Nina - Rilora (Pink Perf Neon/Neon Patent) - Footwear
Consider Pairing The Pink Shoes Above With Something Similar To This Necklace Below:

Betsey Johnson - Betsey's Secret Garden Pink Flower Crystal Drop Earrings (Pink) - Jewelry

Gwyneth - Quinn (Purple Satin) - Footwear

rsvp - Michaela (Fuchsia Satin) - Footwear

Promiscuous - Liana (Ruby) - Footwear
Of Course, RED BRIDAL SHOES, Require The Company Of The Perfect Little Red Bridal Purse!

Pour La Victoire Bridal and Evening - Charney (Red Satin) - Bags and Luggage
Prefer A More "Traditional" Bridal Shoe? Look No Further!

Stuart Weitzman Bridal - Jardin (Ivory Satin) - Footwear

Stuart Weitzman Bridal - Jardin (White Satin) - Footwear