Adding Color to Elegant Bridal Gowns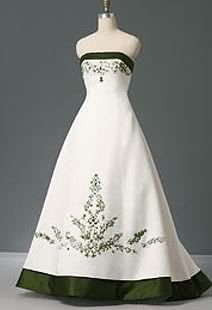 The days of a simple white or ivory wedding gown are all but gone. Today, it is becoming more and more widely accepted to add color to designer wedding gowns. Modern designer wedding gowns offer a wide variety of hues and accent colors as a refreshing alternative to the traditional white wedding dress. The addition of color to designer wedding gowns has allowed many a bride to walk down the aisle comfortable in their own unique personal style.

Traditionally, white or ivory has been the primary color for wedding gowns. This trend supposedly began around 1840 when England's Queen Victoria tied the knot in the color. From the moment Victoria married, white and ivory quickly became the color to be married in. Before that, women chose their "best dress" to wear on their wedding day. The dress did not necessarily have to be either white or ivory. History truly does repeat itself, even if it is fashion history.

Color Allows for Options

Contemporary wedding designers know that varying shades of white is no longer mandatory when it comes to making a beautiful wedding dress. The best designers are constantly reinventing the wedding gown to have the best of both worlds, the essence of that dream dress that so many brides have and a fresh, modern, and contemporary look. Best of all, adding color to designer wedding gowns has given brides so many more options for their special day.

Adding color to a designer wedding gown obviously allows for a more creative look, but also allows the bride to incorporate even more of her own personal style. The wedding gown's color can coordinate with the wedding color scheme and make it even more romantic for the couple. Popular colors today include red, bright burgundy, pink, lavender, and blue. Blue is also a popular choice, as it alleviates the "something blue" that a bride must find. (Remember, the "something blue" allows the couple to enjoy a lifelong devotion to each other and fidelity.)

Adding Color to a White Gown

If you have found the perfect wedding gown, but it is pristine snow-white, here are some suggestions on how to add color. You would not want to dye the dress and risk ruining it, but you can add color to an already white wedding gown by making a trip to your favorite dressmaker, seamstress, or tailor.

A trained professional will be able to help you come up with some fabulous ideas on adding color to your white wedding gown. A great, inexpensive way to add a burst of color to a designer wedding gown is to add piping or a lace overlay in the color of your choice. This doesn't even have to be a permanent addition, which is even better. (A temporary color addition may be a good idea if you hope to pass the dress down to a daughter one day.)

If You Are Intimidated by Color

Many brides long for that unique wedding gown but are intimidated by adding such a bold color statement to the dress. It is important to keep a clear head about it and remember that it is your special day. Whatever you prefer in regards to your wedding gown is perfectly acceptable. However, if you are not ready to take the plunge (aside from tying the knot) think about adding color to your designer wedding gown by doing it through accessories.

If you must stick with a white wedding dress, you can add a little color by wearing bright blue shoes or your favorite color elbow-length gloves. You can also always remove the gloves at the last minute. Wedding shoes are a logical area to add color, especially if you are not sure you want to "mess with the dress." Another way to add color to your dress is to wear brightly colored jewelry or hair accessories. This will make the color pop without breaking from the white dress.

Colorful Bride, Colorful Dress

When making these decisions it is always important to remember that it is your wedding day and your dress. Do not be afraid to show your true style and if that means adding a bit of color to your designer wedding gown, no one should object. Adding color to your wedding gown is a great way to stand out and give you an extra edge which can make your event even more memorable.

When thinking about adding any color to your wedding gown, it is important to remember that the photos will last a lifetime, so you should always be sure you love the color. Avoid choosing colors simply because the latest trends or fads demand it, but only if you truly are happy with the look. Be creative and go with what makes you feel comfortable and beautiful.
ENJOY SOME WEDDING DRESSES WITH COLOR IDEAS BELOW: